Nouns DAO is the decentralized collective that funds its CC0 brand with "one a day" NFT avatar auctions which are automated, on-chain, and perpetual thanks to the uniquely designed Nouns protocol. 
Dozens of projects have forked off this protocol to create their own custom "Nounish" projects since Nouns DAO launched last year. 
Previously, however, a dev with technical knowledge had to manually create these forks. It all changes today with the launch of Nouns Builder, a no-code tool by Zora for building Nouns forks in a DIY manner. 
⌛ Create your own Nounish DAO in minutes!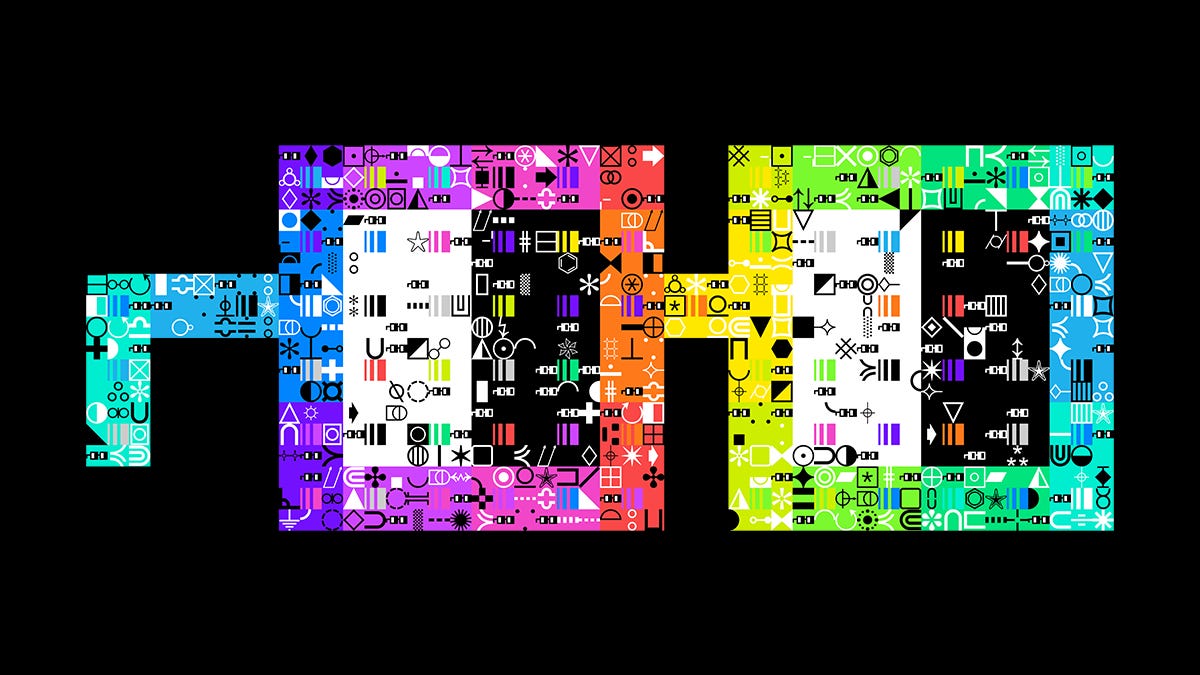 ---
🏭 Nouns Builder explained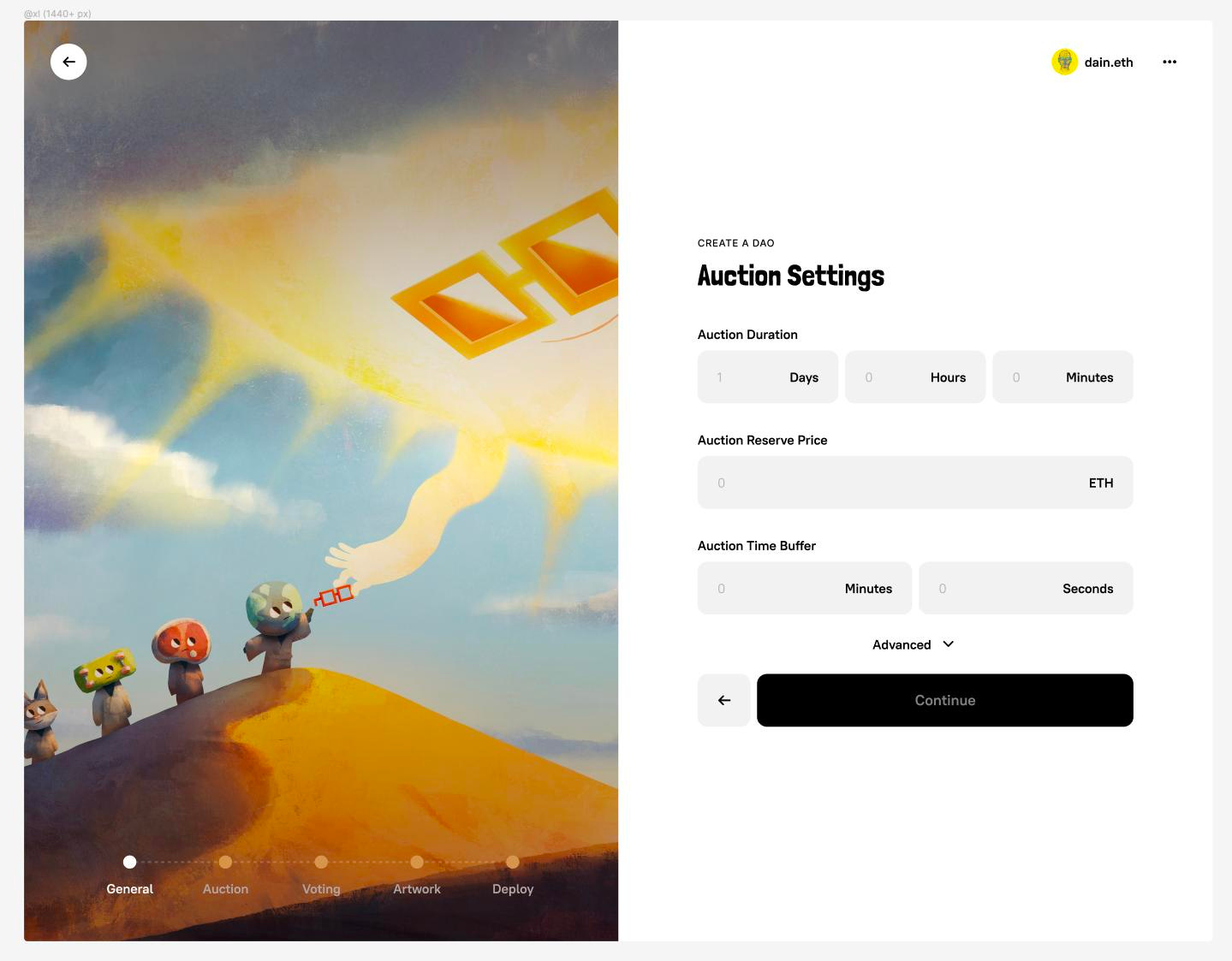 "Instead of giving all power and capital solely to a project's founders, the Nouns model enables communities to emerge progressively, and to be active participants in how their brand and community evolves.

[…] For the past couple of months we have been working on the Nouns Builder: a product that makes it easy for anyone to create their own Nouns DAO with any art, any auction cadence and flexible DAOs that can evolve over time." — Zora's Nouns Builder proposal"
Nouns Builder is a new Zora tool that can help you form a DAO in minutes and then sustain it over time through Nouns DAO-like auctions.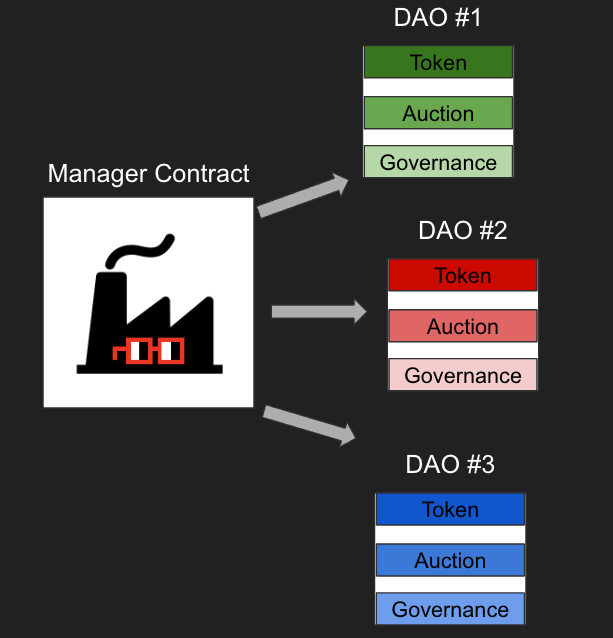 All the technicalities of the process are abstracted away under the hood, so users can just go through a simple UI to jumpstart their own Nounish communities rather than having to manually build or fork out their auction, governance, and treasury infrastructure.
The grand idea? To proliferate the accessibility of the Nounish distribution mechanism and offer DAOs composable and upgradeable infra they can grow and maintain funds through for the long term.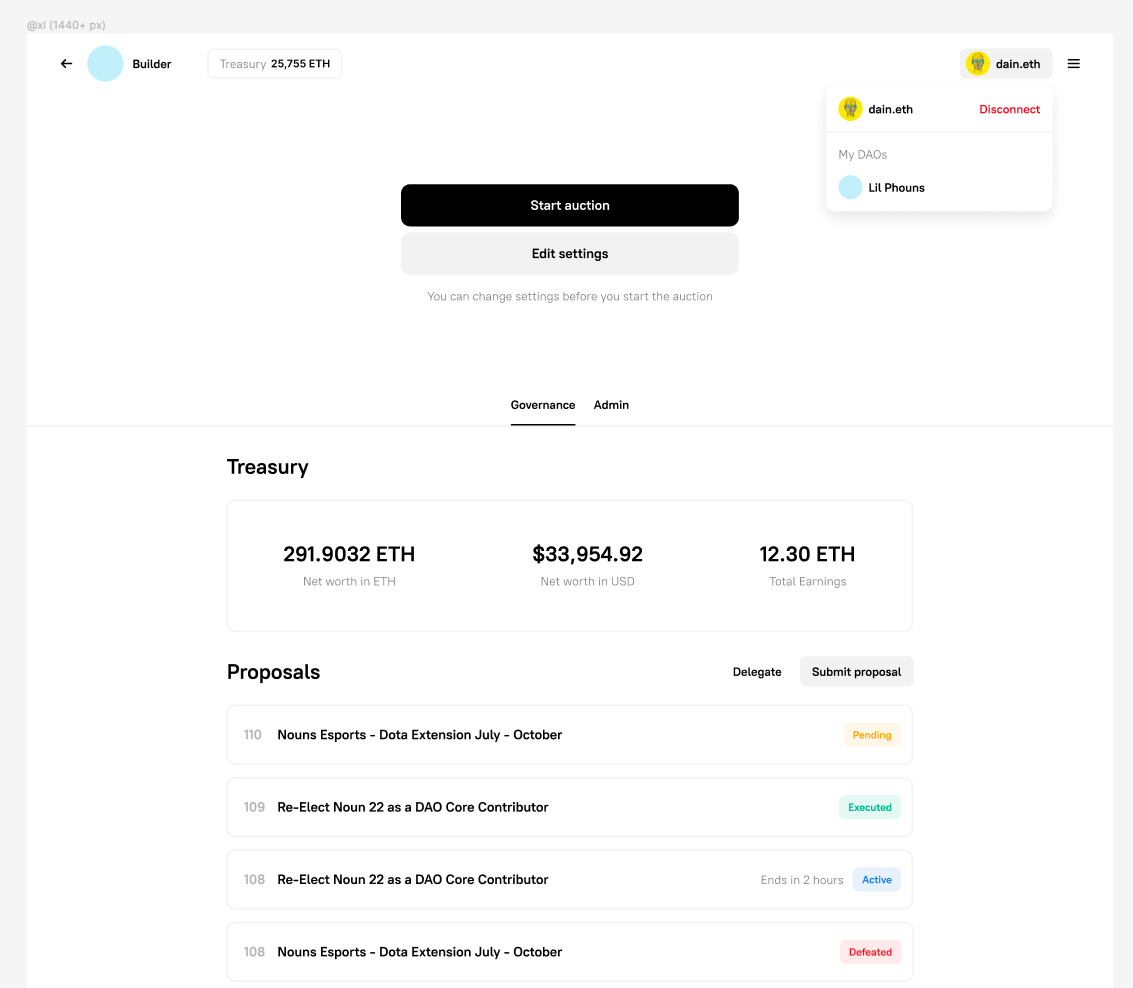 How you order your community is totally up to you, from customizing your auction schedule, like one NFT per week instead of per day, to setting up the art for your generative NFTs. For the art, Zora recommends uploading square .png images (600px x 600px minimum) or .svg images (32px x 32px minimum) organized in a folder, and they've provided an example artwork toolkit to illustrate how the generative process works.
Other elements of your DIY DAO that Nouns Builder helps you set up include your auction's reserve price, proposal and quorum thresholds for governance, founder configurations, and beyond. The tool doesn't charge a protocol fee either, so it's the latest public good to arrive in the NFT space.
---
How Builder DAO factors in
Builder DAO is the group that will govern Nouns Builder and proliferate its ecosystem. To kick off and sustain this collective, Builder DAO is launching its own daily auctions through the Nouns Builder system.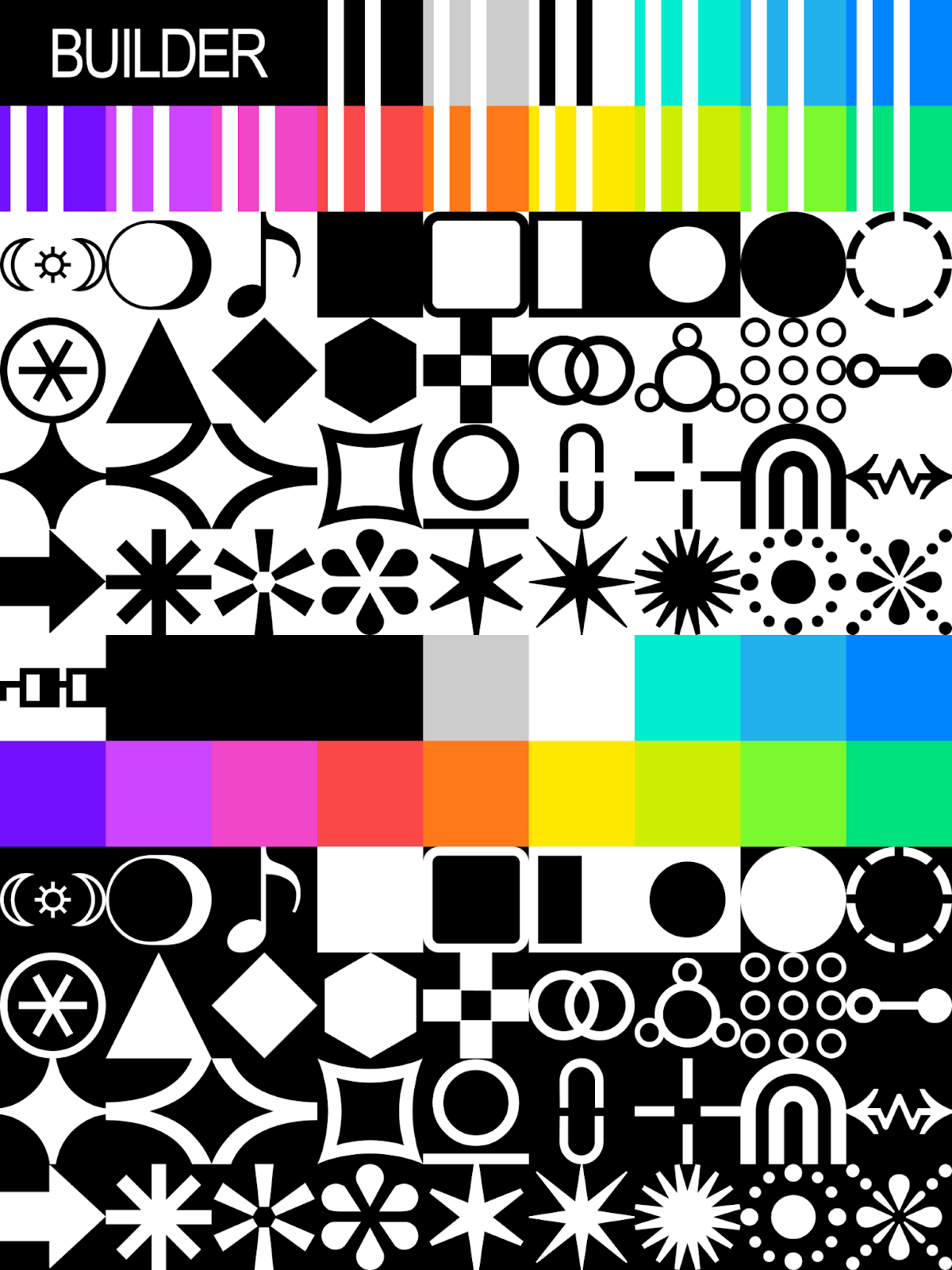 The artworks for these Builder NFTs are based on the notion of internet flags composed of unicode symbols. The end results will look something like this, although each mint will be unique because of the many variations possible: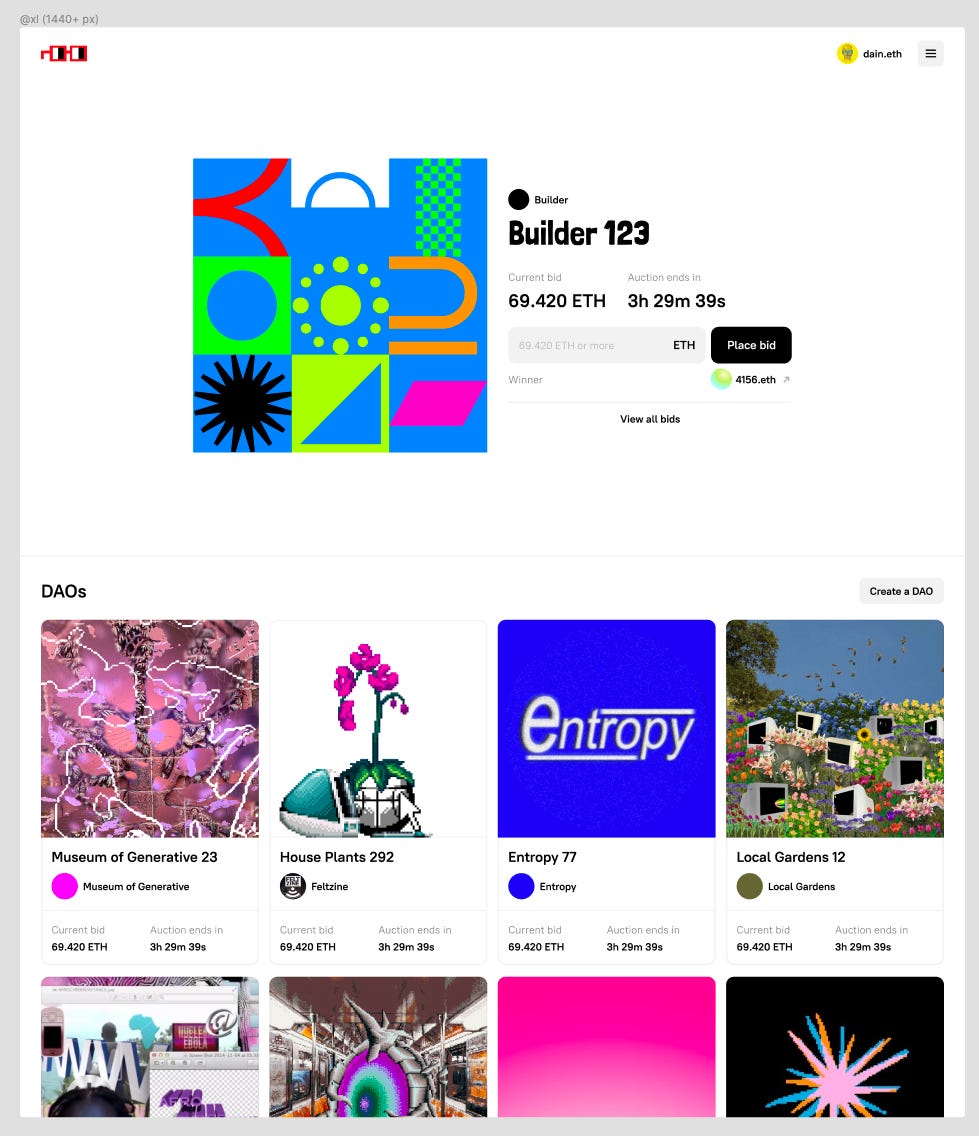 We believe it is important to experiment with Nouns forks as a way to further particular pieces of infrastructure within the Nounish ecosystem,. Instead of funded LLCs and companies to manage tools like Nouns Builder, we want to actively explore using a Nounish DAO as the primary entity to further a public protocol and an ecosystem of many platforms built on top of it.

Zora team
Additionally, Zora has proposed Nouns DAO seed Builder DAO's treasury with 1,000 ETH so the project can immediately spring into further development and proliferation activities. 
Why it matters
In my opinion, the "Nounish" distribution mechanism is the most important NFT primitive to come out of the last bull run, and I think it will be experimented on and built around for decades to come.
That said, Nouns Builder is poised to be a huge catalyst for continued NFT community experiments.
I can't tell you how many times over the last year I've talked with friends and colleagues about launching a project using the Nouns DAO model, but before now, the technical obstacles were just too daunting.
Nouns Builder is a game changer in that regard because it makes it so anyone can simply launch their own custom Nouns fork however you want. It's just one more step toward Nouns and the wider Nounish ecosystem being an all-out movement at the crossroads of art and software. 
Via this site