Nexo Card Review: Summary (TL;DR)
The Nexo card is a Mastercard, so you can only use it in places where MasterCard transactions are accepted.
This crypto debit card supports about 17 varieties of cryptocurrencies.
The nexo.io website states that 40 million merchants around the world can accept this Nexo card for payment.
This Nexo MasterCard also offers cashback on all the purchases you make.
Free withdrawal of cryptocurrencies; Nexo doesn't charge any amount for withdrawal. The minimum withdrawal amount varies from the type of coin you have.
It is easy to learn the basics of this card. It is available as a cryptocurrency savings account.
The interest rates on crypto and fiat currencies range from 6% to 12%, depending on your distributions and assets.
The loan interest rates start at 5.90% APR.
No minimum deposit charges.
What is a Nexo Card?
A crypto-powered debit card is offered by Nexo in partnership with Mastercard. This is the only card that allows users to spend without selling their cryptocurrency holdings.
Nexo, launched in 2017, is a trusted automated loan platform and has processed over $5 billion in the past two years. The platform also provides crypto-to-crypto and crypto-to-fiat lending services. The Nexo card is linked directly to the Nexo account, so funds can be withdrawn without going through banks. You can get 5% cashback if you use a Nexo card for payments.
How to access the Nexo card?
You have to first download the Nexo Wallet app via Google play store or Apple store. Then you have to create an account in the app and order the card.
You have to answer a few questions accurately in the app. The questions will be regarding your personal information, which Nexo needs for the confirmation of your account.
You can use the Nexo app via mobile or desktop platform.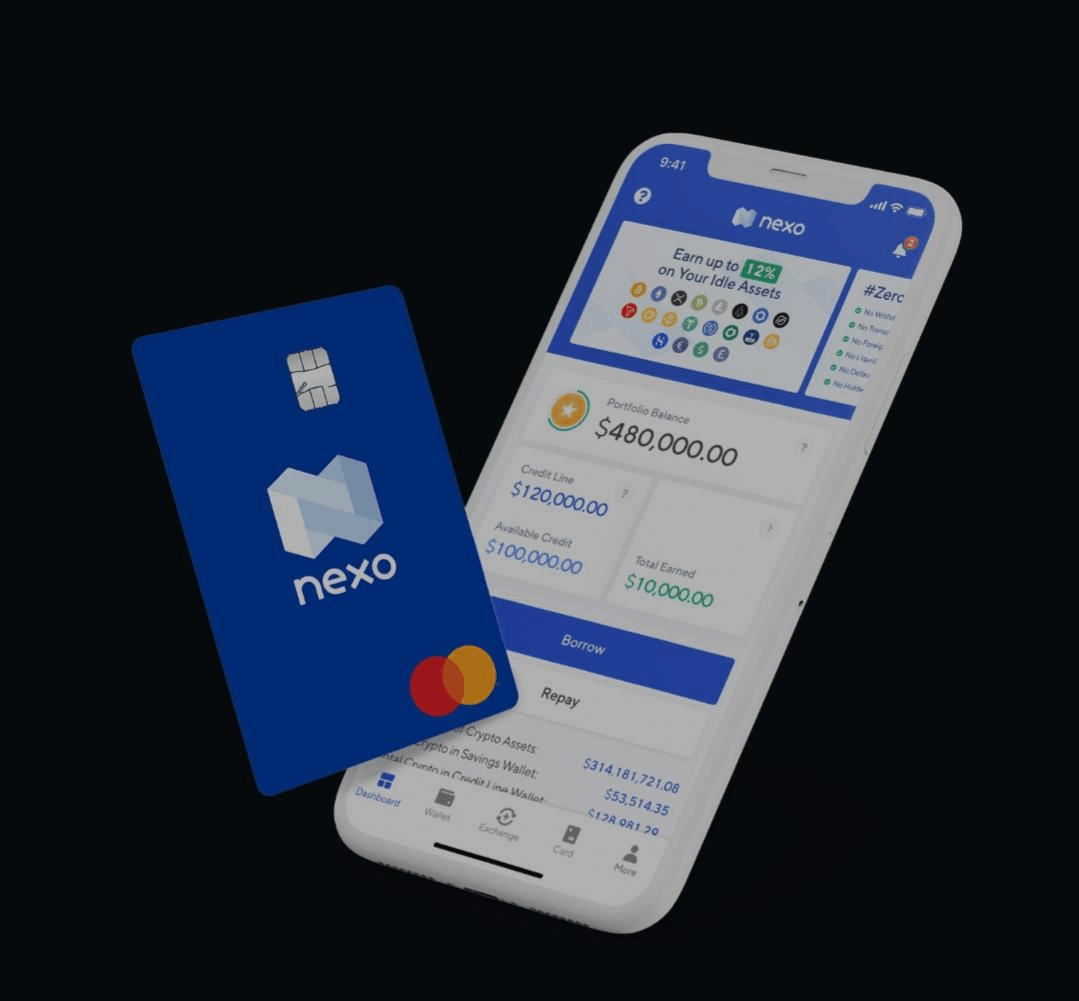 Nexo Card Review: Features
You can access all the features of the Nexo card via the Nexo Wallet app. The features are listed below.
If your card gets stolen or lost, you can freeze or unfreeze it with a single tap.
You can receive and manage all notifications of your Nexo card transactions.
There is an option for you to create virtual Nexo cards for safer online shopping.
You can easily view your PIN and also change it at the nearest ATM anytime.
Enjoy 2% cashback on all your purchases.
You can make payments in local currencies.
Nexo MasterCard Review: Cashback Rewards
Whenever you swipe the Nexo card and make a purchase, Nexo will reward you with 2% cashback regardless of the purchase amount and quantity. You can receive cashback in two ways. NEXO Tokens or Bitcoin currency (BTC) both are available as cashback rewards. The cashback rewards credited to your Nexo account will be visible when you login to your account. Therefore, all you have to do is use Nexo for your purchases; the rest is taken care of by the Nexo.io card and the Nexo account.
Earn Interest With Nexo
Other than getting cash back on your purchases, using Nexo's crypto savings account can earn interest for 6 stable coins and 11 altcoins. It supports coins like Bitcoin, Tron, Ethereum, etc.
The interest rates start from 10℅ for stable coins and 6℅ for altcoins. But you can avail 12% of the interest if you take your distributions via Nexo's proprietary tokens instead of the token you usually use. You can link your bank account to your Nexo account and directly transfer assets to your Nexo account.
Each day Nexo calculates your interest, and directly transfers those funds to your Nexo account. Because interest is calculated and notified to you daily, you don't have to wait for a month to know how much you own. Moreover, you can freely withdraw and deposit tokens at any time. It is not necessary to maintain a minimum balance in your Nexo account to participate in these interest deals.
Nexo Debit Card Review: Benefits
You get a free 2% cashback on all the purchases you make with a Nexo card.
Through its mobile app, you can freeze the card immediately if it gets lost or stolen. Via the mobile app, you can even have a virtual Nexo card for online purchases. Nexo will immediately notify you whenever you will make online transactions with the Nexo card.
If you have used crypto holdings as your collateral for getting loans, you instantly gain access to your funds as soon as your loan is granted. This is very beneficial because after your loan is approved; it usually takes many days for funds to show up in your account; this does not happen with Nexo.
The Nexo platform provides 'High-yield' interest rates that range from 6% to 12%, and they calculate interest daily in your Nexo account.
Nexo Debit Card Fees
You can freely withdraw cryptocurrencies at any time. There is no money charged for it. When you do transactions from a crypto exchange wallet to your Nexo account, you only need to pay brokerage fees and no transaction fees. Like a traditional savings account, Nexo card's crypto savings account also charges reasonable fewer fees. Also, there are no fees charged for account maintenance.
The minimum withdrawal of cryptocurrencies changes depending on the type of cryptocurrencies your wallet holds. Your account doesn't need to have a minimum number of cryptocurrencies to start generating interest.
Nexo Debit Card Review: Security
According to the nexo.io website, the Nexo platform is powered with military-grade 256-bit encryption and fraud 24/7 monitoring mechanisms throughout a year. Nexo took this step to ensure the safety of customers' funds and transactions.
Nexo Debit Card Review: Insurance Policy
Nexo has partnered with one of the leading hardware wallet solutions, the Ledger, to store crypto assets. Also, the crypto assets are insured worth $150 million in insurance policy dealings between Arch and Marsh. Nexo also plans to raise its insurance to cover 1 billion dollars in 2021 in a commitment and effort to provide high-standard security.
In addition, custodian BitGo provides cold storage wallets. And BitGo carries $100 Million insurance protection through a company called Lloyd's. The policy also covers the hack or theft of private keys, lost keys, or insider theft.
Nexo Debit Card Review: Customer Support
There is a 24/7 support team ready to assist you. Just use any one of the below contact options to get assistance immediately
Via Email – You can email your queries to support@nexo.io
Via Live Chat: On the Nexo card's official website, nexo.io, you can live chat in the blue speech bubble available in the right-side corner of the website.
Via Text message: You can type your doubts in the 'Request' text box available in the 'Help section' of the nexo.io card website.
Nexo Credit Card Review: Pros and Cons
Like two sides of a coin, everything has its pros and cons. We have tabulated some of the advantages and disadvantages of using the Nexo card below. You can take a quick look at them in the table below and decide further.
| | |
| --- | --- |
| Pros | Cons |
| It can be used as a standard card and it is accepted by over 40 million merchants across the world. | This card is only useful for people who are already users of the Nexo platform for various other reasons. |
| The Nexo MasterCard allows us to spend while not selling our cryptocurrency holdings. | This card is only useful for those who are willing to borrow fiat currency against their crypto holdings. If you are not interested in this type of borrowing then this card is not for you. |
| The savings account of the Nexo Mastercard provides a high interest compared to other traditional banking sectors. The interest rates range from 6% to 12% on crypto coins and fiat currency | Still is an early access phase, you can only be able to access and order the Nexo card via the Nexo Wallet app. |
| 2% cashback is rewarded for all the purchases. | |
| You can create a Virtual card to have a safer online shopping experience | |
| It supports cryptocurrencies like Bitcoin, Ripple, Ethereum, and 14 other digital assets. | |
Is the Nexo card the right choice for me?
The answer depends on how you will access the value linked with your crypto holdings. You already know that the Nexo card comes with tax benefits if you borrow cryptocurrencies holdings instead of selling them every time your card balance gets low. But for the loans, interest will be charged.
However, if you are someone who wants to have a simple crypto debit card and sell your cryptocurrencies for accessing the associated dollars or other fiat currency, then this Nexo debit card is not the right choice of card for you. The advantages and disadvantages of the Nexo card depend on your usage of the card.
Is the Nexo.io Card the best card in the Crypto market?
Nexo company's crypto card has been hailed as the best crypto card in the market by many people. There are many reasonable justifications for the Nexo card's heightened position
Just like any other traditional cardholder, you can easily use the Nexo card with the swipe of your hand. For people who make most of their payments using the card, Nexo rewards 5% cashback to them. This makes the card popular among many people.
If you become a defaulter and fail to pay the due card payments and loan transactions, you will notice a drop in your collateral.
The amount of credit you can yield from the Nexo.io card depends on your fund holdings' range. The amount may range from $500 to 2,000,000.
Just like Visa card, MasterCard also has a wide range of perks and bonuses. Since MasterCard backs the Nexo card, you can enjoy Nexo MasterCard's benefits. The card performs so well that it is even above American Express.
With a Nexo.io card, you don't need to go to the bank for withdrawal. Link your Nexo card directly with the Nexo account, and you can now access the funds without a bank transfer.
Nexo Card Review: Conclusion
Do not miss this user-friendly platform to start your saving journey if you are a first-time user of a crypto savings account. Nexo is an easy-to-use crypto debit card.
Nexo card operates with MasterCard. Utilize the Nexo card's mobile app to order and manage transactions as well as account-related details. Enter and verify your information carefully, then start using the Nexo card. Also, earn numerous cashbacks when you use the Nexo card.
Nexo is a platform that is well suited to long-term investors seeking to leverage cryptocurrency to gain wealth.
Nexo Problems Help Center: Frequently Asked Questions
When will the Nexo card be released?
Since it is in the early development process, you have to download the Nexo Wallet app and order the Nexo card.
Is the Nexo card anonymous?
No, the Nexo Mastercard is not anonymous. To access the services of the Nexo.io card, the users must compulsorily go through the entire identity verification process of the Nexo platform.
Is Nexo Regulated?
Nexo is a licensed and regulated digital currency providing platform. It also corresponds with more than 200 jurisdictions around the world. Nexo's team makes sure that all legal terms are approved before accepting further customers from countries worldwide.
In which countries Nexo card is available?
You can access this card in all the countries where The Nexo platform is available. The Nexo platform is open in most countries. But here is a list of 22 countries where the Nexo platform is not available.
∙ Afghanistan
∙ Bulgaria
∙ Burma (Myanmar)
∙ Central African Republic
∙ Cote d'Ivoire
∙ Cuba
∙ Democratic Republic of Congo
∙ Eritrea
∙ Estonia
∙ Iran
∙ Iraq
∙ Lebanon
∙ Libya
∙ North Korea
∙ Republic of the Congo
∙ Sierra Leone
∙ Somalia
∙ South Sudan
∙ Sudan
∙ Syria
∙ Yemen
∙ Zimbabwe
Get your Nexo Savings Account now!
Via this site